---
COMICS
---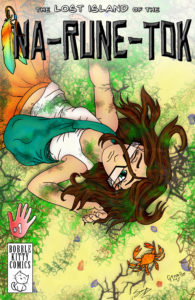 THE LOST ISLAND OF THE NA-RUNE-TOK
  Shipwreck? Adventure? Loincloths? No cell service?
June isn't prepared for any of these things when she washes up on an uncharted island. Luckily, natives Kets'zual and Namai'sal take her under wing, telling her she's a Na-Rune-Tok with special powers. They are confident her magic will manifest sooner or later, but she knows she's just an ordinary girl who wants to get back home.
You can purchase digital comics through Comixology or read online FREE here. The Lost Island of the Na-Rune-Tok comics in Comixology's Guided View are pretty awesome!
Written and Illustrated by Gina Trujillo and Sonya Gonzales.
4/9 Issues Digitally Published
AVAILABILITY : Issues 1-3 Available for Purchase on Comixology.com
AGES : 15+
---
ELI AND AL
Eli and Al follows the wacky adventures of a boy, his alligator, and the small zoo he cares for. With the help of their friends Berry, Boa, Trapper, and many others, they explore the world they live in and unravel the mysteries of the universe, from the dreaded under-the-bed to sleepwalking and beyond.
Written by Gina Trujillo and Illustrated by Enrique Martinez.
A great story for young comic readers!
AVAILABILITY : First Issue Available for Purchase on Comixology.com
AGES : All Ages!
---
ART COMMISSIONS
---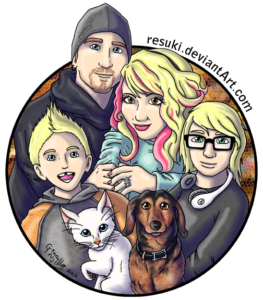 Team Bobble Kitty members accept commission work!
Please check below for availability.
Commission Status:
Gina Trujillo is currently AVAILABLE
Sonya Gonzales is currently NOT AVAILABLE
Contact us for a project quote.